manuskript Show character count progress indicator - Python
Feature: Show characters (with spaces) count for the whole text, here: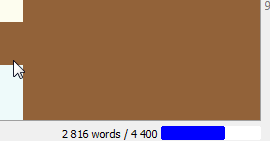 Asked Oct 19 '21 17:10
lechbaczynski
6 Answer:
In some languages, such as Chinese and Japanese, we can't find even one space in a long paragraph in most cases. If I paste a very long Chinese article which contains 10 long paragraph into manuskript, the info 10 words on status bar is useless.
Answered Mar 24 '20 at 15:53
deerainw
Thank you @lechbaczynski for your interest in Manuskript. I noticed you also provided a PR.
Normally publishers, writers, and sometimes readers are interested in the word counts for works of fiction and non-fiction. However in my experience I have not encountered a situation where the character count is important.
What is the purpose of adding character count, and who uses it?
One reason I ask is because Manuskript has been criticised in the past for being too cluttered. We are trying to keep distractions to a minimum so that writers can focus on creating their work. That is why I am questioning the need for a character count statistic in the editor.
Regards, Curtis
Answered Apr 07 '18 at 16:55
gedakc
For most of (over 90% I suppose) of writing contests - short story contests, and also some novel contests, etc., in Poland there is a limit in the rules, given in characters count. like for example 10.000 chars including spaces, or 27.000. Sometimes there is also a minimum char count (incl. spaces) stated in the rules.
See some examples:
"znaków" - means characters "konkurs" - competition "tys." - thousands "opowiadanie" - short story
see the second example - the contest rules state: short story of maximum 30.000 chars, or story idea/draft of minimum 3600 chars and maximum 9000 chars
The same for some novels ("powieść") that publishers seek:
Answered Apr 07 '18 at 20:50
lechbaczynski
Real life example - yesterday I finished writing short story for competition, the limit was 10.000 chars including spaces. I wrote in Manuskript run form sources form my forked github repo - with char count feature. The feature was very useful, see the sum of characters in all scenes on the screenshot:
Answered Apr 07 '18 at 21:16
lechbaczynski
Also, other programs have char count minimalistic Focus Writer, see:
http://cdn.osxdaily.com/wp-content/uploads/2011/09/focuswriter-theme.jpg
and even Scrivener: https://www.literatureandlatte.com/assets/image/scrivener/features/windows/win-1-binder-editor-inspector.png
Answered Apr 08 '18 at 05:48
lechbaczynski
Thank you @lechbaczynski for the additional information regarding the use of character counts in writing competitions. It would seem that a character count would be a useful addition to Manuskript.
I will post some suggestions for enhancement in the PR you created.
Answered Apr 08 '18 at 15:49
gedakc